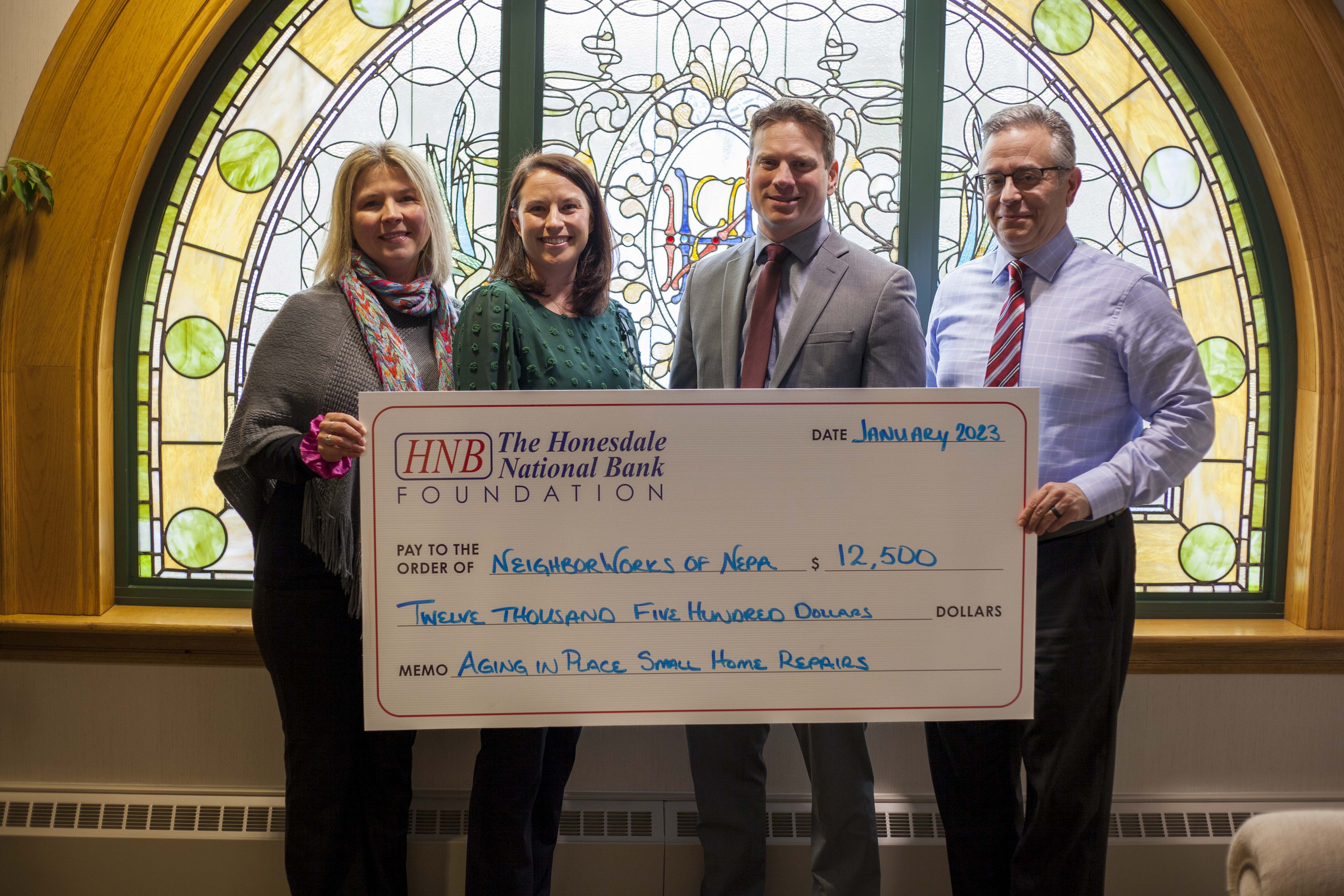 The Honesdale National Bank Foundation has recently made a $12,500 contribution to NeighborWorks of Northeastern Pennsylvania. The funds will go specifically to our Aging in Place program.
HNB President & CEO, Thomas E. Sheridan Jr., stated, "We are happy to support NeighborWorks and their continuous efforts with their Aging in Place program." He continued, "Maintaining the safety and livelihood of our senior community members is something we cherish here at HNB, and we hope these programs are available for generations to come."
The Aging in Place program provides homeowners age 60 and above with services that focus on assisting them to continue living safely and with dignity in their home and community. Through this program, NeighborWorks collaborates with human services organizations to evaluate individual needs and provide small home repairs, critical safety modifications and community services specific to each homeowner's lifestyle to preserve their home and their independence. Surveys with their clients show they're mentally and physically healthier, feel safer at home, and engage with their family and friends more.
The Honesdale National Bank Foundation was established to further support the Bank's commitment to contributing to the growth and development of the communities we serve. The Foundation's mission is to support the sustainability and strengthening of resources and programming that make our communities thrive and remain desirable places to live, work and play. The mission will be upheld through the provision of funding for public charities, institutions, schools, and other not-for-profit organizations throughout our area. Through a focus on health and human services, education, culture and community enhancements, the Foundation intends to exemplify corporate citizenship and continue to create opportunities for all that benefit from our region's offerings.The Honesdale National Bank Foundation is a registered 501(c)3.
The Honesdale National Bank, established in 1836, holds the distinction of being the area's oldest independent community bank headquartered in Northeastern PA, with offices in Wayne, Pike, Susquehanna, Lackawanna and Luzerne Counties. The Honesdale National Bank offers personal banking, business banking and wealth solutions. HNB is a Member FDIC and Equal Housing Lender with NMLS ID # 446237.
Pictured L to R: Melodie Robinson, Mary Edrusick, Jesse Ergott, President & CEO of NeighborWorks, and Ray Ceccotti, SVP, Business and Relationship Development Manager at HNB.