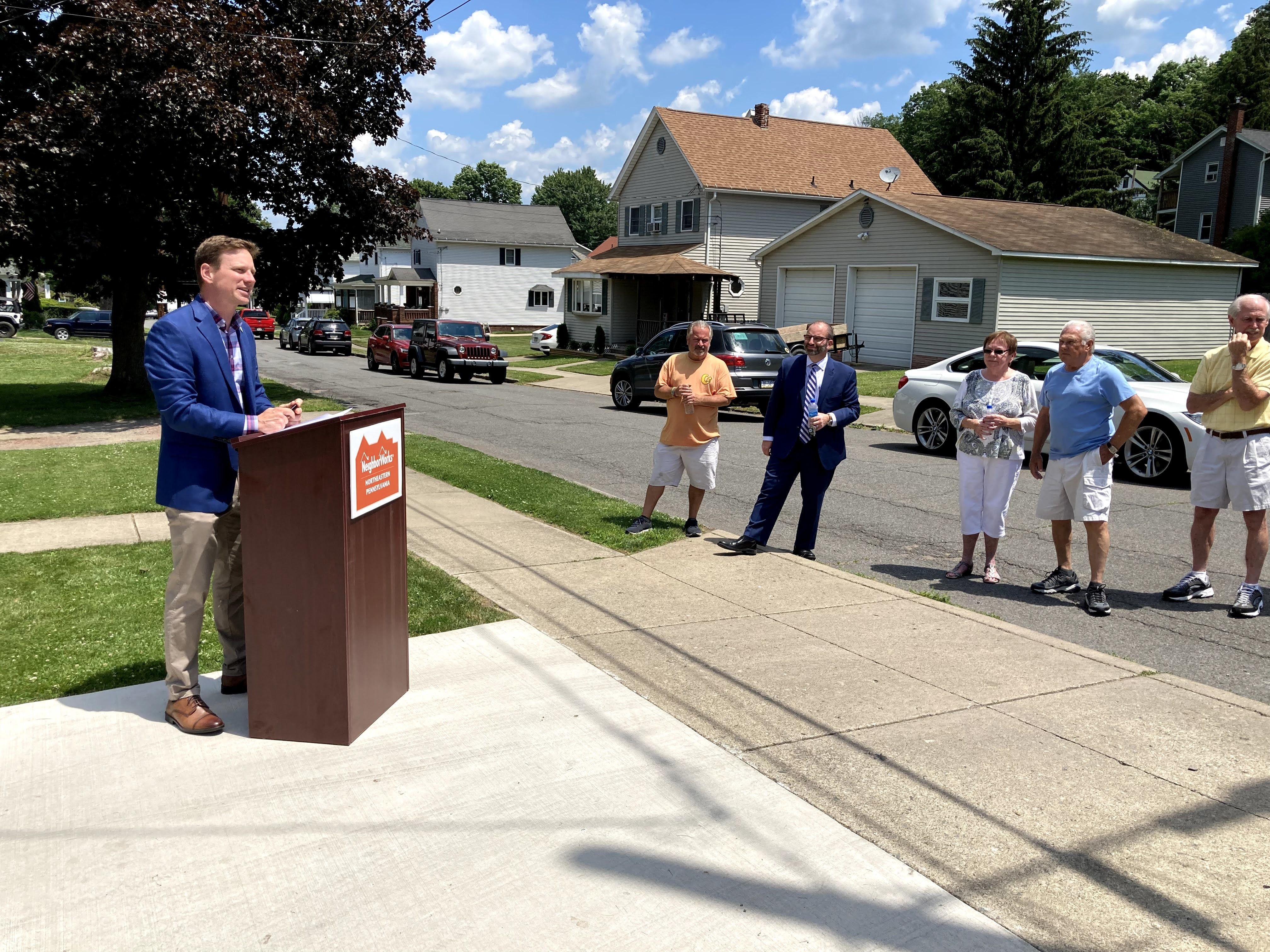 NeighborWorks Northeastern Pennsylvania, the City of Carbondale, and Lackawanna County are pleased to announce the block groups selected for funding in the inaugural Beautiful Blocks program cycle in the Pioneer City.
Beautiful Blocks is a home improvement program which provides matching grants of up to $1,000 per property to groups of residents to help them make exterior improvements to their homes. After two successful years in the City of Scranton, the program was expanded to Carbondale.
Three block groups have been selected in the first year of the program in Carbondale:
-Upper Farview (100 block of Farview Street; Tim and Mary Bucklaw, Block Captains; eight properties)
-Kickin' Neighborhood (100 block of Washington Street; Lauren Laflair, Block Captain; seven properties)
-The Archbald Street Gems (Archbald Street; Marty and Anne Lawler, Block Captains; six properties)
Members of selected groups have until November 1 to complete their individual exterior homer improvement projects, with groups also eligible for a $200 stipend to conduct a community celebration or service project.
According to NeighborWorks President & CEO Jesse Ergott, "In our first year of operations for Beautiful Blocks in the City of Carbondale, we have been delighted to see strong interest from both applicants and funding partners. We are looking forward to an engaging first cycle, and will continue to work to grow and sustain the program in this community."
Beautiful Blocks in Carbondale is made possible with support from Lackawanna County Commissioners Jerry Notarianni, Debi Domenick, Esq., and Chris Chermak; with additional support from Charles W. Grimm Construction, Inc; CLIDCO; CC Cleaning; Brian Kelly and Associates; Adams CATV; Northeast Inspection Consultants, Inc.; Carbondale Family Health Center, Part of Wayne Memorial Community Health Centers; Cipriani & Werner, P.C.; Reuther Bowen; Pleasant Mount Welding; and Community Bank, NA.
"Mayor Justin Taylor is thrilled to see the significant improvements that will take place in neighborhoods throughout the City of Carbondale through the Beautiful Blocks program," Michele Bannon, Carbondale City Clerk and member of the NeighborWorks Northeastern Pennsylvania Board of Directors, said of the program's first year in Carbondale. "Both the physical improvements that will be performed, as well as the spirit of community that will be strengthened among groups, will do a great deal to boost the quality of life in our neighborhoods."

Carbondale Residents interested in participating in the Beautiful Blocks program can access more information by visiting the program homepage at https://www.nwnepa.org/programs/beautiful-blocks.html. More information is also available by contacting Gerard Hetman, NeighborWorks Northeastern Pennsylvania Community Development Specialist, at (570) 558-2490 or ghetman@nwnepa.org.
In 2019 and 2020, the first two years of the Beautiful Blocks program operating in Scranton, a total of 25 groups of neighbors participated, with more than $155,000 in grant funding awarded. This grant funding helped to leverage more than $330,000 in funds invested from participating homeowners. An additional nine project groups were selected in the 2021 cycle in Scranton, representing 98 total projects.