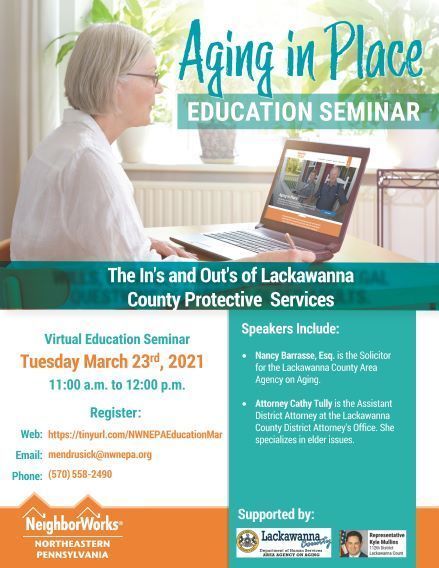 NeighborWorks Northeastern Pennsylvania (NWNEPA) is pleased to announce the next installment in our Virtual Aging in Place Seminar series.
Our seminar for this month will focus on "The ins and outs of Lackawanna County Protective Services." The seminar will take place Tuesday, March 23, 11:00 a.m. to 12:00 p.m. via virtual webinar.
We will be featuring guest speakers Nancy Barrasse, Esq., Solicitor for the Lackawanna County Area Agency on Aging; and Attorney Cathy Tully, Assistant District Attorney at the Lackawanna County District Attorney's Office, specializing in elder issues.
Our seminar series is supported by the Lackawanna County Area Agency on Aging, and the Office of Pennsylvania State Representative Kyle Mullins (D-Lackawanna).
There is no cost to attend the seminar, but registration is required. Interested parties can register by visiting https://tinyurl.com/NWNEPAEducationMar, via email at mendrusick@nwnepa.org, or by calling 570-558-2490.