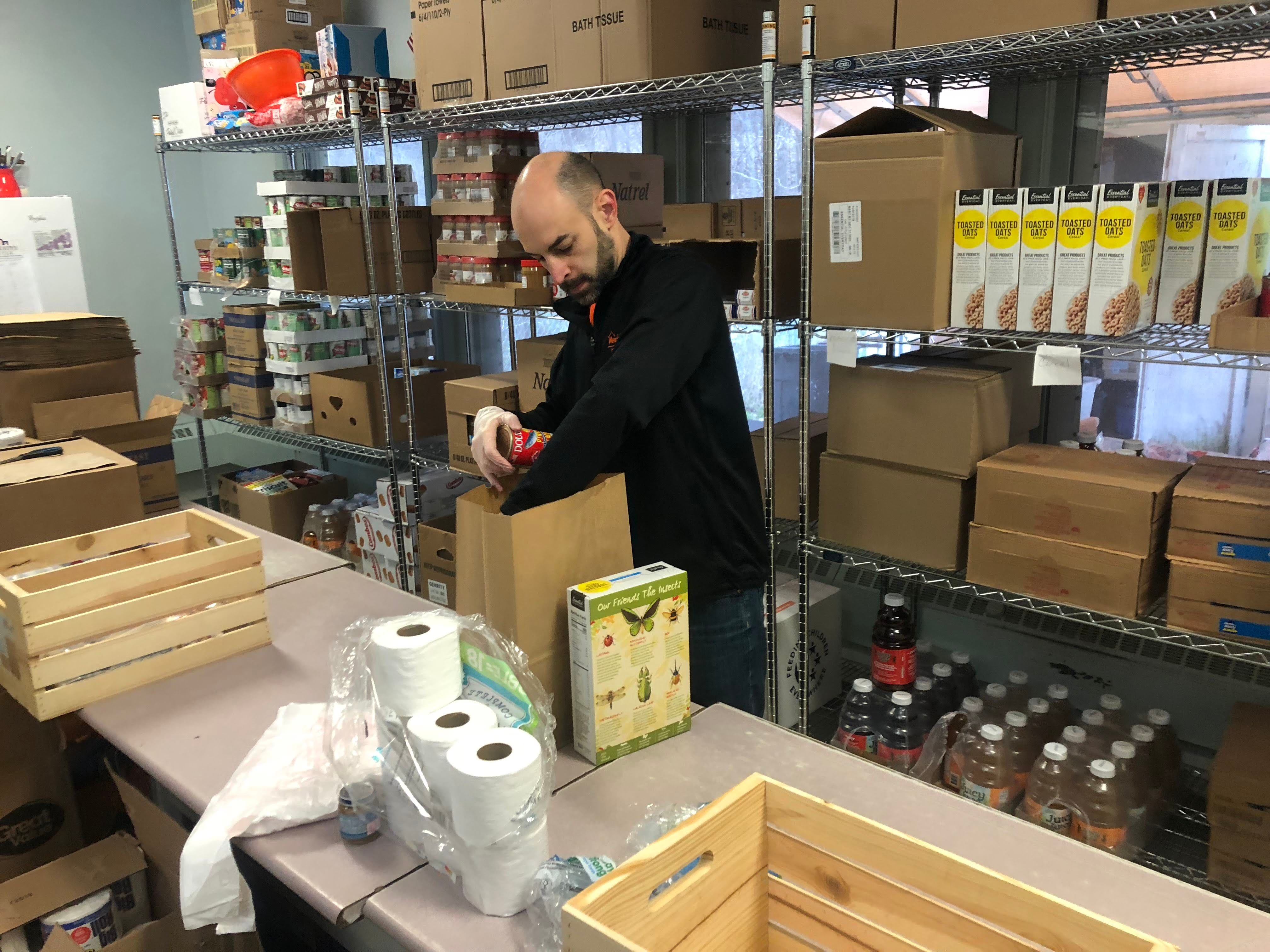 As the coronavirus pandemic grips the world, our staff here at NeighborWorks is doing its best to address the urgent daily needs around us while continuing to provide the services that homebuyers and homeowners have come to expect from us. Here's how our staff is lending a hand during this difficult time and how you can help, too!
Volunteering in Food Pantries
As the demand for food increases, food pantries have struggled to keep up as their ranks of volunteers dwindle. In response, members of our staff are helping sort and package food (while maintaining a safe social distance from each other) at Friends of the Poor's busiest pantry in West Scranton. If you'd like to volunteer at one of Friends of the Poor's food pantries or weekly emergency food distribution events, call (570) 340-6086 or email friendsofthepoor@fotp-ihm.org. Volunteering is an allowable activity under the current statewide stay-at-home order, and it's a great way to help your neighbors in need!
Delivering Meals to Seniors
Some of our staff have also been helping Meals on Wheels and the West Side Senior Center pack and deliver meals for homebound seniors. Like food pantries, these organizations are in desperate need of volunteers at this time. If you're interested in volunteering with Meals on Wheels, complete their online volunteer form.
Supporting Local Restaurants while Feeding the Hungry
Through the Electric City Connection, you can donate $15 to provide a fresh-made meal to an individual in need while supporting a struggling local restaurant at the same time. Donations are used to purchase restaurant gift cards to give to low-income Scranton residents. Some of those gift cards have gone to NeighborWorks' aging in place clients. The Electric City Connection is a project of the University of Scranton, Friends of the Poor, and Scranton Tomorrow. Donations can be made on Scranton Tomorrow's website.
Donating Supplies to Local Hospitals
There is a severe shortage of personal protective equipment (PPE) for doctors, nurses, and other medical personnel. NeighborWorks was happy to donate its supply of dust masks, latex gloves, and safety glasses to Geisinger Health System. If you have similar items that you'd like to donate, fill out this donation form on Geisinger's website.
Giving Blood
The coronavirus pandemic has led to a critical shortage of blood across the country. Donating blood is safe and can literally save lives. If you're healthy, schedule an appointment to donate blood through the American Red Cross or your local blood center.
Completing the Census
If you haven't already, please complete your 2020 Census survey today. It's easy to complete online or by phone, and it has an enormous impact on the resources that are available to our community.