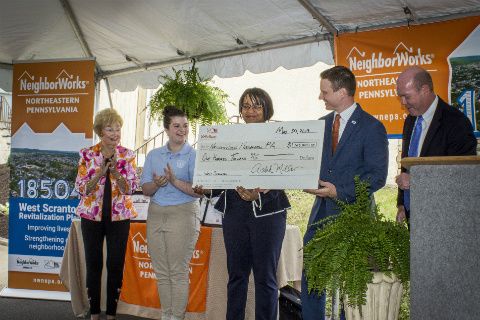 On Wednesday, May 30, NeighborWorks Northeastern Pennsylvania initiated its West Scranton Revitalization Plan with a kick-off event at its future home at 815 Smith Street in West Scranton. Along with community leaders and stakeholders, speakers such as U.S. Representative Matt Cartwright, West Scranton Resident Annette Palutis, and NeighborWorks President and CEO Jesse Ergott spoke about the importance of community revitalization and the bright future for West Scranton.
"We are thrilled to be launching this effort with our partners in this wonderful neighborhood," Ergott said. "We want this plan to be built on the voice and the vision of the residents and businesses who call West Scranton their home."
Other speakers included Katie Watts, Senior Vice President of Field Operations for NeighborWorks America; Izzy DeFlice, a 9th grade student at West Scranton High School; and Bob Durkin, President of the Greater Scranton Chamber of Commerce and a board member of the Wells Fargo Regional Foundation.
Attendees also included the local media, members of the Wells Fargo Regional Foundation, State Representative Marty Flynn, Scranton Mayor Bill Courtright, and Scranton Councilman Wayne Evans.
During the event, the Wells Fargo Regional Foundation presented NeighborWorks with a $100,000 grant to fund the first phase of its decade-long initiative, which includes a resident survey and the development of a comprehensive revitalization plan for the neighborhood of West Scranton. From there, NeighborWorks hopes that the revitalization plan will spark actionable steps in order to revitalize, recreate, and reimagine the community of West Scranton.
The plan, implemented over a ten-year period, consists of four steps: data collection, planning, pre-implementation, and implementation, which will take place from 2019 to 2030. More broadly, the plan will focus on areas such as neighborhood building and engagement, housing and homeownership, economic development, and services for children and families. Finally, the plan will be based on specific neighborhood improvement strategies that focus on community needs and the priorities of the people living in West Scranton.
Historically, neighborhood revitalization efforts in Scranton have centered on other areas of the city such as the downtown, the Hill Section, and South Side, but NeighborWorks' revitalization plan will be the first to focus on the neighborhood of West Scranton, which is an area of the city where financial and social investment is needed.
Representative Matt Cartwright, who is a member of the House Appropriations Committee, commented: "I continue to be a strong advocate for federal programs that invest in our communities and I commend the team at NeighborWorks Northeastern Pennsylvania for their dedication and hard work." He added, "Our city is a vibrant place, and I am glad to see revitalization efforts and investments being made in our neighborhoods."