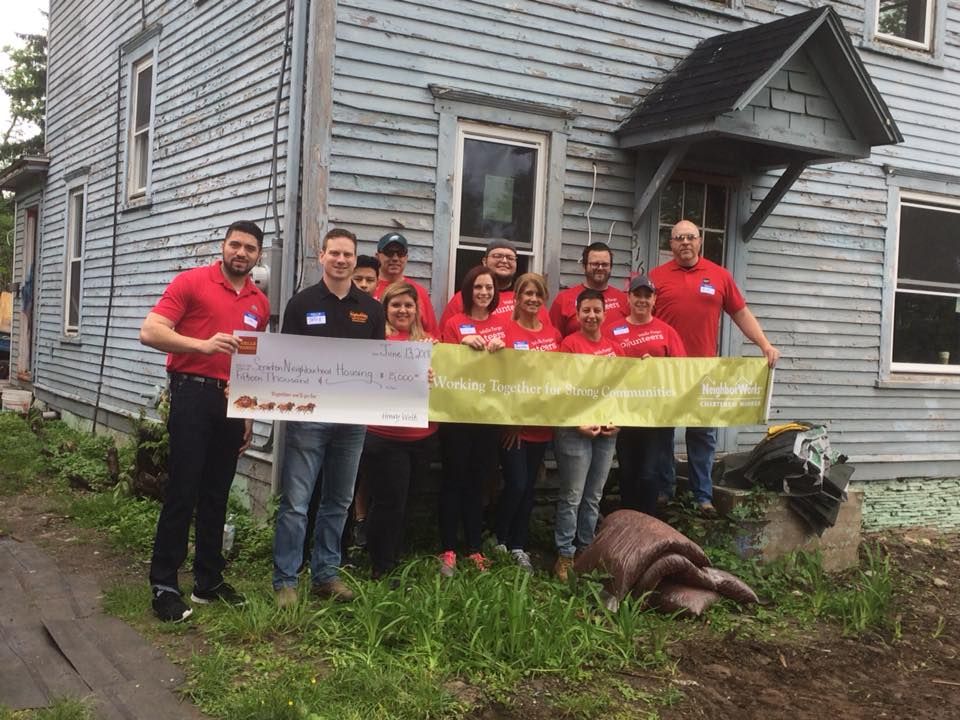 Over a dozen employees from Wells Fargo Bank branches throughout northeastern Pennsylvania recently assisted NeighborWorks Northeastern Pennsylvania with the renovation of a property located at 316 Summit Avenue in Clarks Summit Borough. They were participating in Wells Fargo's Team Member Volunteer Program, which offers employees of the bank an opportunity to give back to their community through various volunteer activities and neighborhood improvement projects.
"Our team members look forward to these NeighborWorks renovation projects, in fact, they are some of the most popular volunteer days we have," said Oiram Santos, Wells Fargo Scranton-Pike District Manager. "To be able to transform a house into a home means a lot to our volunteers, and NeighborWorks is a fantastic partner whose expertise makes this happen."
Volunteers spent the day clearing the property of brush, landscaping, and preparing the site for lawn seeding to take place in the coming weeks. In addition to the significant amount of volunteer labor, a check for $15,000 from the Wells Fargo Housing Foundation was presented for use towards improvements to the property.
The property was originally donated to NWNEPA through the Wells Fargo Community & Urban Stabilization Program (CUSP), which offers the bank's real-estate owned properties to non-profit partners for redevelopment purposes. "This project has been a true partnership" said Jesse Ergott, NWNEPA President & CEO. "The property has been a longstanding eyesore to an otherwise beautiful neighborhood, so the opportunity to work with Wells Fargo to bring it back to life is extremely rewarding."
Pictured, front (left to right): Oiram Santos, Wells Fargo District Manager; Jesse Ergott, NWNEPA CEO; Marianna Yafar, Gretchen Swartwood, Jannette Moran, Blayre Harvey, Jodi Cegelka. Back: Cristopher Pachay, Joe Montagna, Clayton Casino, Bill Latshaw and Michael Poremba.