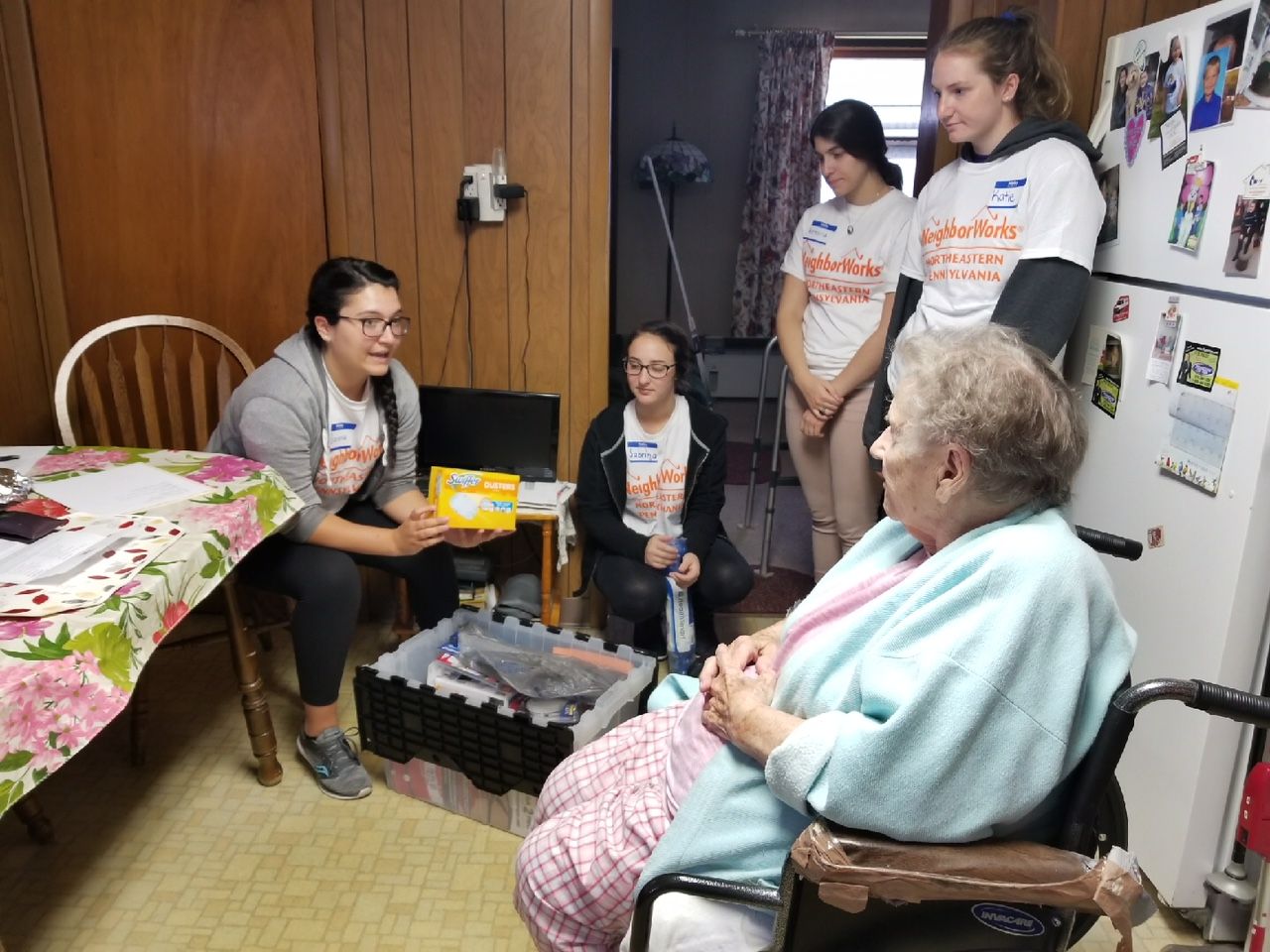 The demographics of the United States (and many other nations in the world) are shifting rapidly. The Baby Boomer Generation—those born between 1945 and 1964—are entering a new stage in their lives. In the coming years, this generation—which is larger than the generations that came before and after it—will have needs that are relevant to organizations focused on older adults.
Many programs are springing up around the idea of "aging in place," or a person's ability to live safely in their home for as long as possible. According to an AARP study, 90% of older adults wish to age in place. For many, this is their best option. In-home health care is more affordable than a nursing home or assisted living center, and many older adults have already paid off their mortgages and benefit from utility and tax assistance programs. The reasons go beyond simply finances, though. There is a level of comfort in remaining in one's home, as well as a sense of community within their neighborhood.
Modifying the Home Environment for Safety
When working to ensure that a senior can safely age in place, it is essential to understand that their health is directly related to their home environment — falling and other accidents in the home can severely reduce a person's ability to live in and navigate their home. According to the CDC, more than 95% of hip fractures are caused by falling, usually sideways, and falling is the most common cause of traumatic brain injuries. In fact, one out of every five falls results in a serious injury, such as a broken bone or a head injury.
Occupational Therapists as Experts in Home Safety
Many people make the decision to modify their homes only after a fall or accident has happened, either from necessity or out of fear of the incident recurring. An occupational therapist would argue that it is vital that the environment changes before the person even needs the adaptation. This gives them time to get used to the change and understand better and safer ways of navigating their home as a preventive measure.
An occupational therapist (OT) is a medical professional who works with individuals to help determine ways they can adapt to various barriers that keep them from doing the things they want to do. OTs rarely ask a person to stop doing something they love or to start doing something else. Instead, they assess a person's lifestyle (or lifestyle goals) and help them to live their best life in the safest way possible. Their goal is to help a patient do things safely in the present so that it does not affect them negatively in the future. An OT, for example, might recommend a ramp from the porch to the sidewalk to ease the process of leaving the house, rather than simply telling a patient it would be easier not to leave.
Partnering with Occupational Therapists
NeighborWorks Northeastern Pennsylvania is fortunate to have the University of Scranton nearby, which has an accredited occupational therapy department. We have partnered with students and faculty there to help us assess the most effective ways to make homes safer for older adults. The students are quite knowledgeable, some of them being master's level students, and their professor is an excellent guide and facilitator. Having these students conduct the assessments gives them real world experience in their field and helps them meet their required hours of community service. Our homeowners also enjoy having the students in their homes, often asking them about their studies or their hobbies.
The students ask the homeowner questions about their accessibility needs, health concerns, use of assistive devices, and other questions that may help them get an idea of the person's mobility and in what ways they have trouble in their day-to-day lives. The OTs will also ask some questions about the homeowner's personal life and their experience in their home, such as how long they've lived there and how comfortable their home is. The longer a person has lived in their home, the more likely they are to be used to it the way it is and be content with it staying the same. Assessing how comfortable a person is helps the OTs gauge their willingness to change and explore ways the home can be modified to better suit their needs.
Needs of Older Adults
When working with older adults, it is important to avoid using blanket rubrics when determining the best ways to assist them, since each situation is unique. What benefits one person may not benefit another, which is why working with occupational therapists has helped us truly uncover the best ways to help people while maintaining their dignity, personality, and independence. We are also finding it increasingly important to never tell a person what they need — either they can tell you, or you can work together to discover what home improvements and modification will best suit their individual lifestyles.
How Occupational Therapists Can Assess Safety
It's not hard for most people to see that a normal bathroom can pose problems for an older adult. However, it may be hard for them to identify ways to help. Occupational therapists work with trained eyes. They know what hazards to look out for. For NeighborWorks, they not only assess large needs like bathroom modifications, but smaller changes as well. For example, occupational therapists often recommend increased lighting in homes, which NeighborWorks can remedy by adding LED motion lights, swapping dim light bulbs for brighter ones, and adding night lights throughout the home. Occupational therapists also often recommend that homeowners get rid of their loose throw rugs or tape them down so that they aren't a trip hazard.
Demand for these relatively minor safety improvements led to the creation of NeighborWorks' safety kits. Eligible homeowners can receive up to $300 worth of safety items for their home, installed free of charge by volunteers. In addition to the items just mentioned, each safety kit also includes smoke and carbon monoxide detectors, a fire extinguisher, radon gas test kit, non-slip treads for stairs and ramps, and non-skid bath mats, to name a few.
Other Aging in Place Needs
Although NeighborWorks is currently focused on safety kits, bathroom modifications, and critical home repairs, our long-term plan for addressing the needs of older adults also includes small home repairs and financial education classes for seniors. We often come across homes that have small problems, like a leaky faucet or loose hand rail. These homeowners often cannot find someone reliable to help them do the work, or they can't find someone interested in doing these small jobs when there are much bigger jobs available. NeighborWorks hopes to fill this gap by contracting our own handy man or woman to be a reliable and dependable helper to older adults.
Financial education is vital to people of all ages and income levels, and older adults are no exception. By creating an education class designed specifically for seniors, we can discuss financial topics that are relevant to them, such as Medicaid and Medicare benefits, tax relief programs, and reverse mortgages. This can also be an opportunity to talk about retirement and living on a fixed income.
Although we know there is much work to be done, we're looking forward to helping seniors throughout Northeastern Pennsylvania live safely and independently in their own homes for as long as possible.