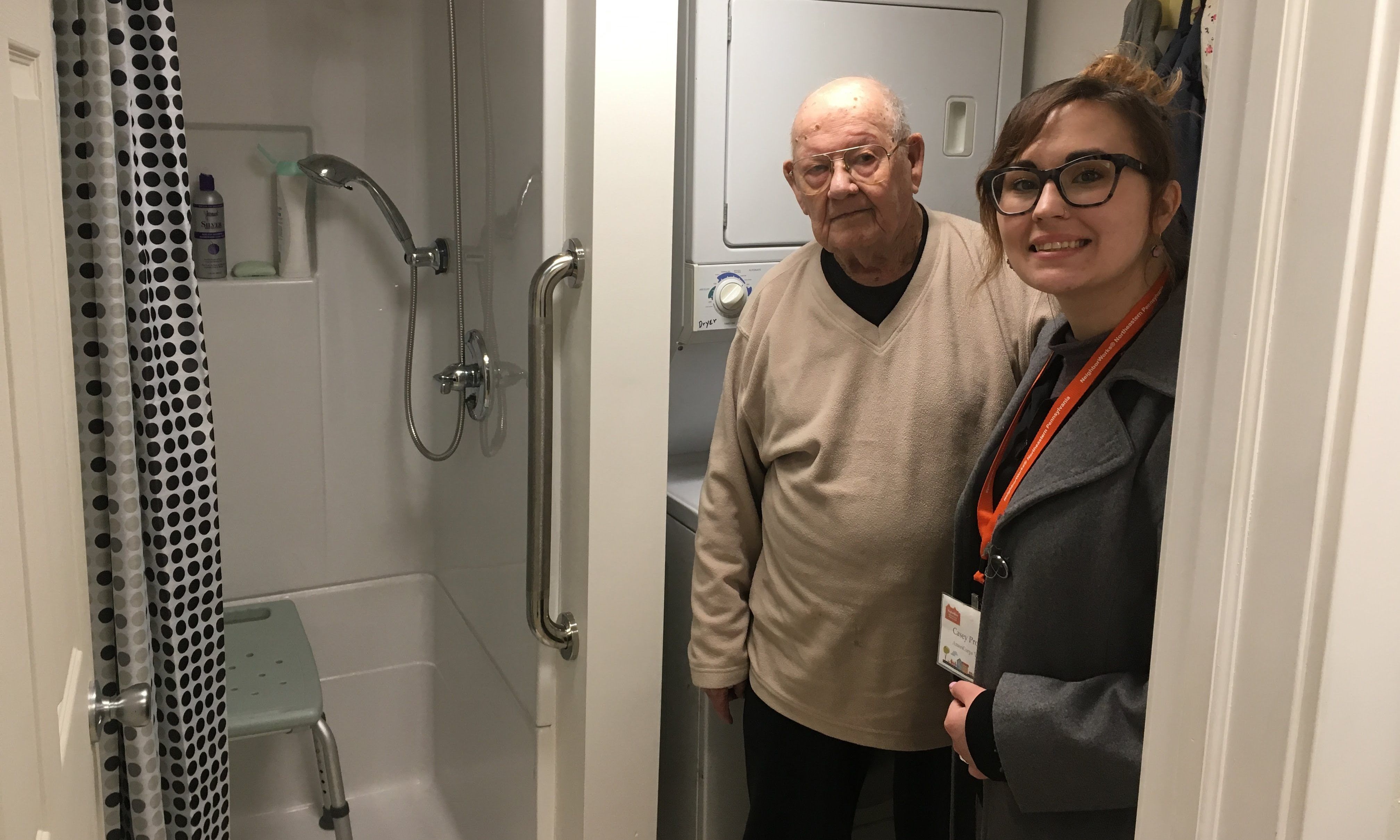 For seniors, there are many obstacles to growing old in the comfort of their own homes. Every house is unique, and most have features that may have been easier to use when the owners were younger and had different abilities. Many homes in northeastern Pennsylvania, for example, were built with only one full bathroom, which is usually located on the second floor. Since walking up and down stairs is often a challenge for older adults, it is important to find ways to remove this barrier to aging in place.
This was the challenge faced by Joe McDonnell and his wife, Joan. Drafted to serve in World War II at the age of 18, young Joe McDonnell was proud and happy to defend his nation at war. After arriving at Le Havre, France, Joe was assigned to the 101st Cavalry Reconnaissance Squadron, Troop C, attached to the 5th Armored Tank Division. Joe was a cavalry scout, the "eyes and ears" of the Army. His job was to stay ahead of his unit, sometimes as far as 25 miles, to evaluate enemy strength and identify targets. Fortunately, he made it through the war with just one injury—trench foot—but he had many close calls, including one during the legendary Battle of the Bulge.
After being discharged with four Battle Stars in 1946, Joe moved back to Brownstown, PA, to finish up high school. After graduation, he went off to GI school and earned certificates in machining, foundry, and tin-smithing. He then had a diverse working life making caskets, supervising a $4.5 million sewage disposal project at RCA in Mountaintop, running his own roofing business, providing maintenance at Wilkeswood Apartments, and finally retiring in 1988 as grounds superintendent at the University of Scranton.
The home that Joe and Joan live in is over 125 years old, and it was acquired from Joan's family. Now 92 years old, Joe and his wife Joan are finding it harder to navigate their home. Last year, Joan fell on the stairs and broke her femur. Now she must use a walker or wheelchair to move from one room to another.
Installing an accessible bathroom downstairs would make it easier for Joe and Joan to remain safely in their family home. So NeighborWorks partnered with CIL Cares to transform the McDonnells' first-floor laundry room into a bathroom with a walk-in shower, sink, and stackable washer and dryer. NeighborWorks used a grant from the Home Depot Foundation to purchase the necessary materials and supplies, and CIL Cares helped the McDonnells obtain Medicaid funding to cover the installation.
The end result: the McDonnells' home was made safer by moving the most important amenities, like the bathroom, to the first floor so that Joe and Joan no longer have to traverse the stairs. We were honored to give back to this very deserving couple and look forward to assisting other older homeowners like them.
This post is part of a series focused on helping older homeowners live safely and comfortably in their own homes for as long as possible, a concept know as aging in place. Read our last post, How to Prevent Falls and Accidents at Home, and stay tuned for the next post in the series!