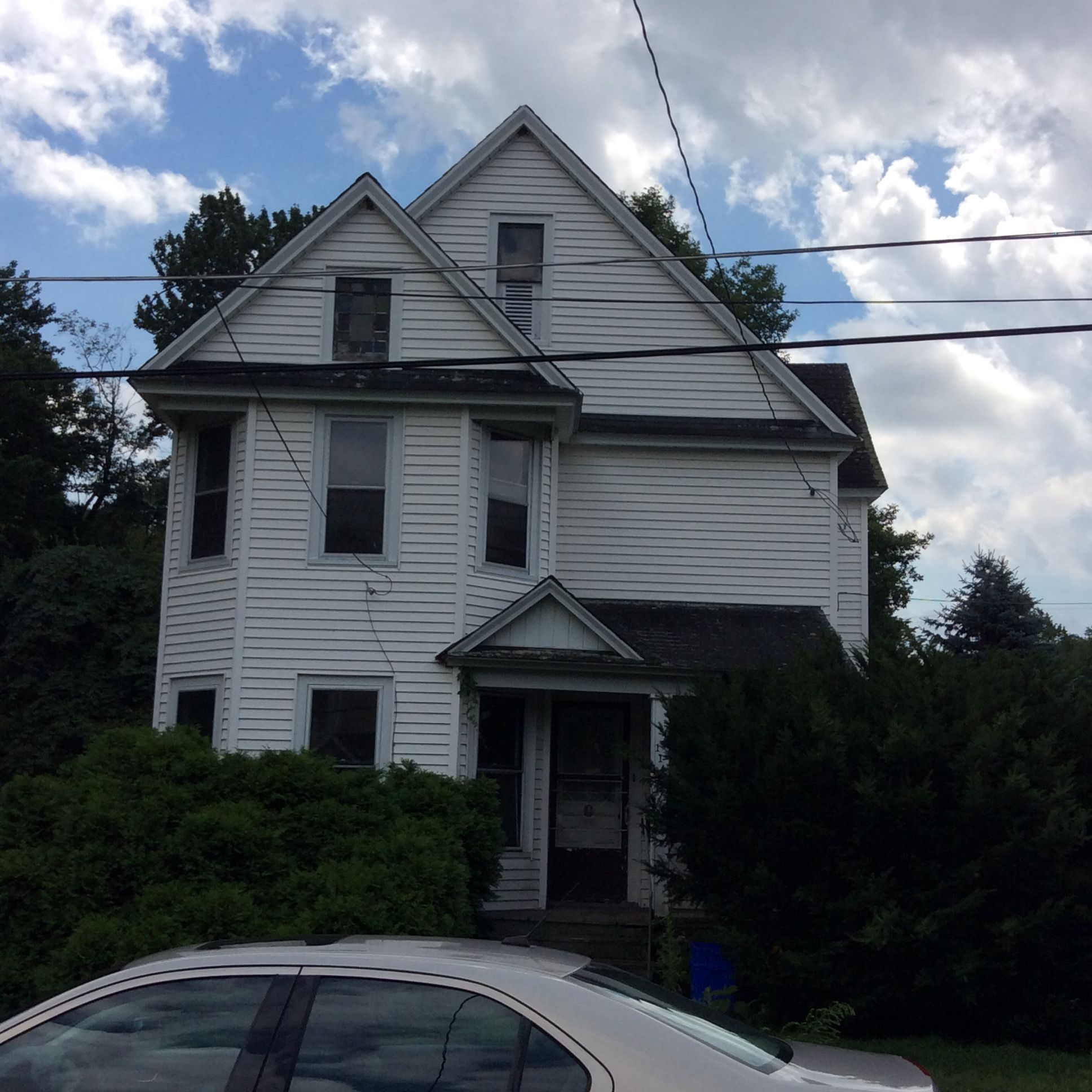 What happens when the three most important words in real estate – location, location, location! – happily collide with three equally great housing words, those being, potential, potential, potential?
Magic, we say!
NeighborWorks NEPA is thrilled to announce the latest house it has acquired through Project PAR, or our Property Acquisition & Redevelopment Initiative.
Allow us to introduce you to a grand lady in waiting.
Here are the bullet points:
She's situated on a large, level lot on peaceful Cemetery Street in Jermyn, where the speed limit is a mere 15 miles per hour.
She's got great bones, as it's also said in the real-estate world. That's probably because she's one of the last remaining DuPont company houses in the area, which means she has Sears Craftsman lineage.
She's surrounded by fantastic neighbors invested in their community whose pride is abundantly evident in the way they maintain their properties.
Her outside is in almost-pristine shape and just needs a little cosmetic attention, mostly in the form of landscaping. It's her inside that needs a lot of love.
Fortunately, we here at NeighborWorks NEPA, together with our faithful volunteers and professional teams, have tons of love to give, and we cannot wait to pour it all out on this lovely white house with almost gingerbread qualities and a storied history.
In case you were not aware, in the 1850s, during the unfolding Industrial Revolution, coal mining was king, and coal mining consumed incredible amounts of explosives, meaning explosives mills were hardly eyebrow-raising sights. In fact, E.I. DuPont de Nemours & Company, commonly known as DuPont, bought such a mill on Wapwallopen Creek after an explosion and flood bankrupted its previous owner in 1859. DuPont successfully operated this mill as coal production doubled in the 1860s and demand for military and blasting powder increased with the outbreak of the Civil War. In 1911, two explosions, however, hit the DuPont plant. Instead of rebuilding, DuPont moved its operations to Moosic, Pa., and operated plants in Towanda and Jermyn as well.
Workers in Jermyn would have been members of the United Powder and High Explosives Workers of America Union, Local 107, and several of them resided in houses built by the parent company. Through the 1920s, you see, it was widely believed that providing housing for employees created a more stable work force. Near as we can tell, DuPont had at least 12 designs of houses built for its workers in factory towns across the country.
Most of these houses exist now only as part of historical archives, such as at the Hagley Museum near company headquarters in Wilmington, Del. (where you can view an extensive photographic collection), but, here and there, a few continue to stand the test of time in former factory towns where remnants of a humming, village-like past still whisper on the wind.
We invite you, then, to come with us on a grand journey into the past as well as the future as we not only return this Jermyn beauty to her former glory but resurrect her to something even bigger and better.
We'll be working with a team of skilled contractors and volunteers to make the magic happen here, and we welcome inquiries if you'd like to be part of this very special project. When all is said and done, we hope, we'll have accomplished all that we set out to do when Project PAR began.
Namely, we'll have prevented deterioration of a worthy home and, in turn, a great surrounding neighborhood, we'll have increased surrounding property values and stabilized a neighborhood threatened by an abandoned property, we'll have created a new homeowner not burdened by out-of-reach renovations who will, in turn, begin paying local property taxes and, perhaps most important, we'll have saved and raised enough funding to do it all over again in another neighborhood with a need.
Have a look! Click here: http://www.smilebox.com/playBlog/4e4451324d544d314e54633d0d0a&blogview=true