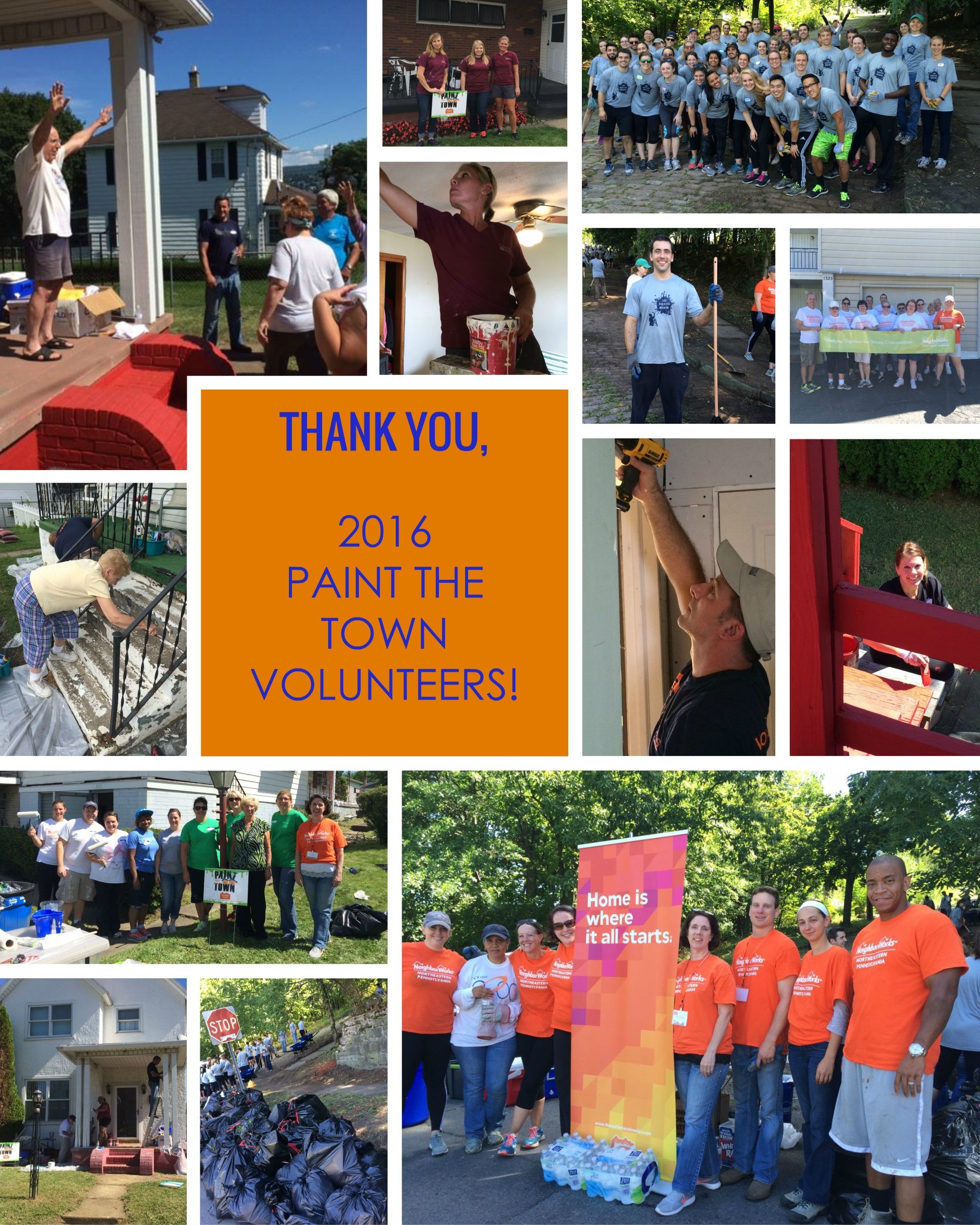 Another PAINT THE TOWN week is in the books, and what a week it was! Mother Nature could not have been kinder to the scores – 125 in total! — of volunteers from community businesses and organizations who joined NeighborWorks NEPA this week to provide face-lifts to five houses and begin the arduous process of cleaning up a vacant community lot to make way for a possible new Chutes and Ladders themed park.
From Aug. 28 through Sept. 2, our team members spread out across the city with paintbrushes, rollers and tons of yard tools in hand, all in an effort to beautify and preserve our neighborhoods one house at a time.
Paint The Town, a community-wide service NWNEPA offers as part of its Home Matters Repair Initiative, which primarily serves low-income, elderly and/or disabled homeowners, this year took NWNEPA staff and volunteers to:
211 Van Buren Ave
1134 Farr St.
1325 Blucher Ave.
3321 Pittston Ave.
512 N. Sumner Ave.
and Clay Avenue and Poplar Street in the Hill Section, for a project involving what's hoped to become community space.
We cannot thank our volunteers enough; they are our without-which-nothings for these types of labor-intensive projects. This year, several excellent corporate citizens sent teams, including The Commonwealth Medical College, the Hill Neighborhood Association, Entercom Communications, Fidelity Bank, Citizens Savings Bank, Community Bank, N.A. and Erie Materials.
Volunteers enjoyed not only a day of camaraderie outside the office, with relatively low humidity and just enough sunshine but the satisfaction of knowing the big difference they were making in local lives.
Said one homeowner, Fred Battaglia of Farr Street, "The only thing I can do anymore is change that clock."
While his hands may fail him as he ages, his heart does not. Fred not only tried to offer the volunteers lemon ice pops from his freezer but made sure they enjoyed their pizza lunch around his welcoming kitchen island.
It was the least he could do in return for receiving so much more than he expected, he said. Thanks to the meticulous efforts of a crew from Entercom Communications as well as a professional contractor, Fred got two deteriorating front pillars replaced and painted. Then the volunteers painted his deck and railings as well as his foundation.
Everything looked so beautiful, Fred said, that he feared only his girlfriend's reaction. He worried she'd visit and say, "I want it this way all the time!"
"NeighborWorks Northeastern Pennsylvania is extremely grateful to the volunteers who once again helped us pull off one of our signature service projects," said Jesse Ergott, NWNEPA president & CEO. "They made such a visible difference in our city. We also thank the businesses who graciously provided their employees this time to work alongside us."
For more information, about the project or NWNEPA, call 570-558-2490 or visit www.nwnepa.org