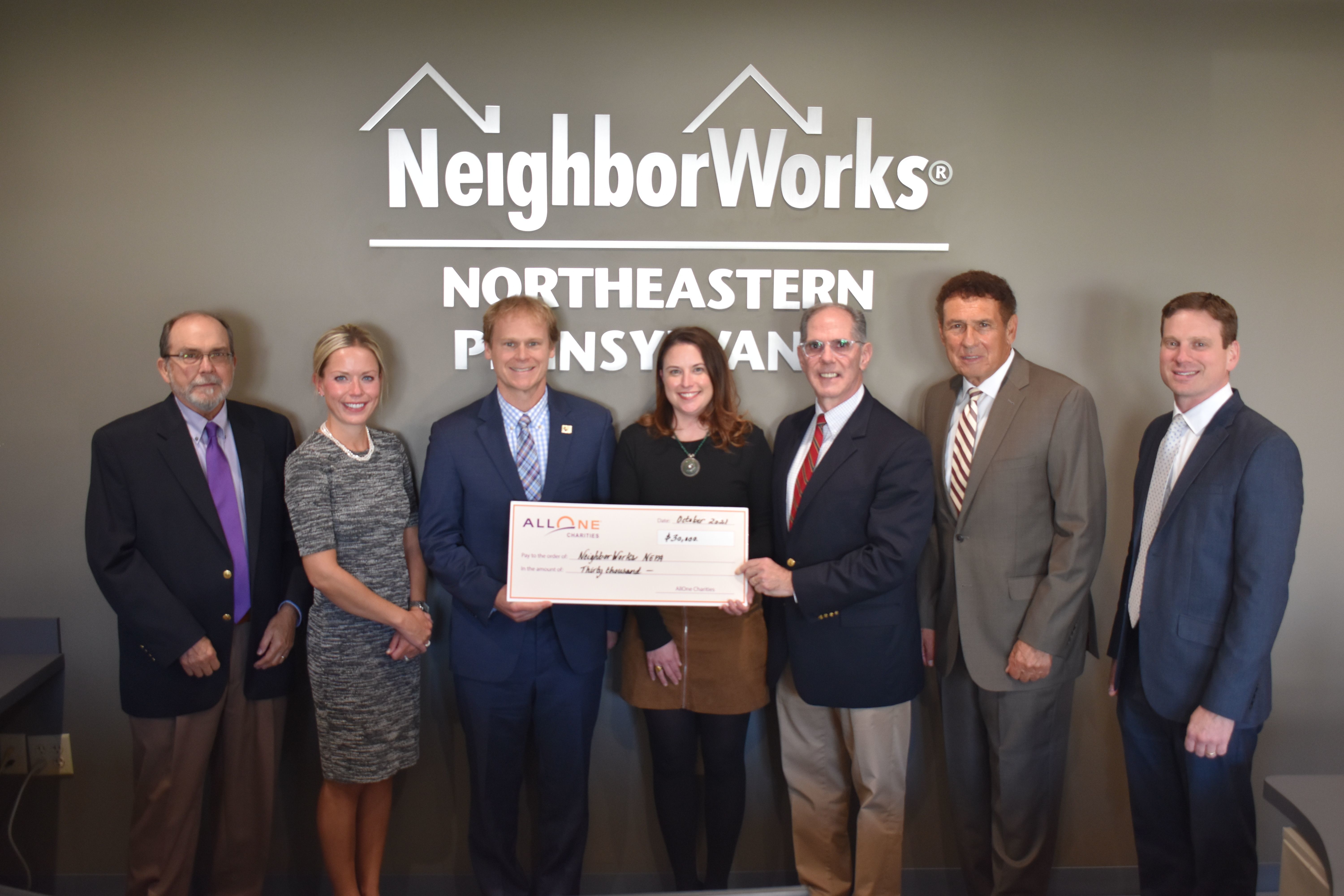 NeighborWorks Northeastern Pennsylvania (NeighborWorks) is pleased to announce it has received a $30,000 grant from Highmark Blue Cross Blue Shield and AllOne Foundation & Charities.
These funds will support NeighborWorks' Friendly Visitor Program in partnership with the Ignatian Volunteer Corps (IVC). The Friendly Visitor Program will assist in combatting social isolation and loneliness that older adults have experienced during the COVID-19 pandemic.
"The Ignatian Volunteer Corps of Northeastern Pennsylvania is a volunteer program for individuals age 50 and above desiring to make a difference in the lives of those: (1) needing service; (2) doing the service; and (3) with whom we serve," said Teddy Michel, Director of the Ignatian Volunteer Corps of Northeastern Pennsylvania. "The collaborative funding award from Highmark and AllOne Foundation & Charities  resourced our collaborative effort with NeighborWorks of NEPA to mitigate older adult isolation arising from the COVID-19 pandemic."
The Friendly Visitor Program helps older adults in Lackawanna and Luzerne County reduce their feelings of social isolation and loneliness in their communities by partnering them with an IVC Volunteer. Volunteers engage with older adults either by telephone or virtually to provide resource connection, virtual activities and someone to connect with. Additionally, the IVC Volunteer checks to ensure an older adult is safe and connects them to resources such as food, utility assistance and medication acquisition.
"The onset of the COVID-19 pandemic and resulting challenges clearly illustrate the harmful effects of isolation on the health and wellness of older adults," said Jesse Ergott, NeighborWorks Northeastern Pennsylvania President & CEO. "We are truly grateful for this critical investment from Highmark and AllOne Charities as it will go a long way in working to alleviate and prevent such isolation among older adults in our area."
To identify the most critically isolated and lonely adults, NeighborWorks has partners such as the Lackawanna County Area Agency on Aging and two Occupational Therapists who will assess and recommend Friendly Visitor services for older adults. Each Friendly Visitor will receive training on how to work with older adults, boundaries and a resource connection database that connects volunteers and older adults to community resources.
"Highmark is proud to work with our friends at AllOne Charities to support this important program," said Katie Kemmerer, Regional Manager of Community Affairs at the Highmark Blue Cross Blue Shield. "We recognize that due to the pandemic, isolation is more prevalent than ever amongst our older adult population. Through this collaboration, we can help ensure our senior community members remain socially engaged, as well as have access to the resources needed to maintain their health and safety."
To date, ten IVC service corps members made social support telephone calls to over 250 potentially isolated older adults in our community, spending more than 600 hours on the telephone with these individuals.
"AllOne Charities is pleased to be partnering with Highmark in support of the exceptional and compassionate services being provided by NeighborWorks NEPA and the Ignatian Volunteer Corps," said John Cosgrove, Executive Director of AllOne Foundation & Charities. "While this collaborative approach brings many fine Aging in Place programming to our senior neighbors and friends, the Caring Calls effort is a direct, immediate and measurable way to improve access to mental health and behavioral health services during these most isolating and challenging times."
This grant award was funded with an initial $15,000 from Highmark Blue Cross Blue Shield, which was later matched by AllOne Foundation & Charities. This total will be used to help fund social isolation prevention services such as the Friendly Visitor Program.